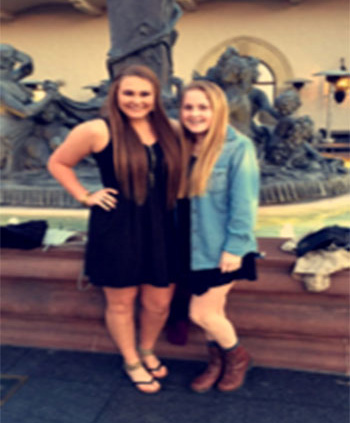 Ashley Donnell and Mica Ekis
On January 30, 2016, life changed for Ashley and Mica, both 14 years old and active freshman at Smithville High school, were seriously injured when the vehicle they were riding in left the road and rolled over several times. Both girls were taken by ambulance to Children's Mercy Hospital.
Upon arrival, Ashely's prognosis was both critical and life threatening. After further evaluation, she was diagnosed with a moderate traumatic brain injury with a right temporoparietal epidural hematoma (blood fills the area between the skull and the protective covering of the brain - brain bleed). She had several skull fractures (right temporal, right parietal, right zygomatic arch, right lateral pterygoid plate, and bilateral sphenoid sinuses and clivus).
After two CT scans, neurosurgery was called in to perform emergency surgery to stop the brain bleed. We were able to see her in the hallway being wheeled from the ER to surgery. The surgery was successful! We were finally able to see Ashley about 5:30am (Jan. 31, 2016).
Ashley was in the PICU/hospital for 6 days. After surgery, Ashley struggled with memory, cognition, reaction time, hearing loss, balance, and dizziness. She was released and continued outpatient therapy (Occupational and Physical). To date, Ashley continues with Vestibular Therapy to try to improve her balance and dizziness. The doctors say she won't be released to play sports for 6-12 months. She is working hard to rehabilitate herself back to a normal life. Ashley is one of four siblings and is very active in school and competitive sports including, softball and basketball.
Upon arrival, Mica was admitted in the trauma center with an altered level of consciousness. After multiple CT scans, she was diagnosed with a moderate traumatic brain injury and a severe concussion. She struggled with short term amnesia, memory loss, and visible temporal swelling and bruising. In addition, Mica went through oral surgery on her mouth to remove broken teeth lodged in her gums and soft tissue, which required a minimal amount of stitches. Mica was observed for a 24 hour period in Children's Mercy and then released home to rest and recover from painful physical injuries. In addition, she required corrective dental procedures to repair her front teeth. Today, Mica continues to battle memory loss, speech impediment, loss of concentration, and certain phobias. Mica is one of three siblings and is active in both school activities and competitive sports, including volleyball, basketball, soccer, and she had planned to start up archery in the spring before the accident occurred. Two months following the accident, she passed concussion testing and was able to return to sports.
Both the Donnell and Ekis families are so humbled and grateful for the outpouring of prayers and support for Ashley, Mica and our families! Thank you to Larson's Cause for the financial support and letting us focus on Ashley & Mica's full recovery!
Beneficiaries List